Everyone needs a spiritual home. A place where they gather with others, can sense the presence of God and feel free to worship Him. A place to celebrate His goodness in our lives and seek His wisdom when we lack understanding.
Since 1877, the Salem Evangelical Covenant Church of Oakland, Nebraska has provided such a place for people of all ages. A place for people who desire spiritual growth and direction in their lives, who encourage and support one another in their walk of faith.
At Salem Covenant Church, we are a gathering of people committed to scriptural values. Imitators of God, not content with the "appearances" of church conformity, but responsibly drawn to confront the real issues of life in order to help bring healing to people injured by a broken world.
We believe there is a blessing in an open and caring environment where people come to know the love, acceptance, and forgiveness that Jesus has to offer everyone.
It sounds very much like family, doesn't it? It is, and we'd like to welcome you to come and be a part of our church family.
**we are celebrating our 140th anniversary at Salem on Sunday, November 19, 2017. Worship is at 9:30 a.m. with Tammy Swanson-Draheim, Midwest Covenant Conference Superintendent, as our speaker at 10:30. Our traditional OFFERFEST meal will follow at 11:30 with oyster soup and pie (and if not a lover of oyster soup, several other recipes will be served too). Former pastors have been invited and we are welcoming all to join us!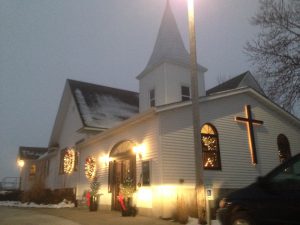 Service Time
Worship - 9:30 a.m.
Fellowship - 10:30 a.m.
Sunday School - 10:45 a.m.
Confirmation - 11:00 a.m.
Trailblazers - 2nd Monday of each month
Location